My Latest Audiobooks are Available @ Audible.com!
Did you forget that I narrate books on top of the cartoons & commercials & promos?! Well, I've done several audiobooks this year, and three of the audiobooks that I narrated are now available for purchase on Audible.com – Lucky you!
You can cruise on over to my voice over demos page to hear a little bit of "Suburban Sin", or jump over to my Audible narrator page to hear a snippet of all three. Please give them a listen!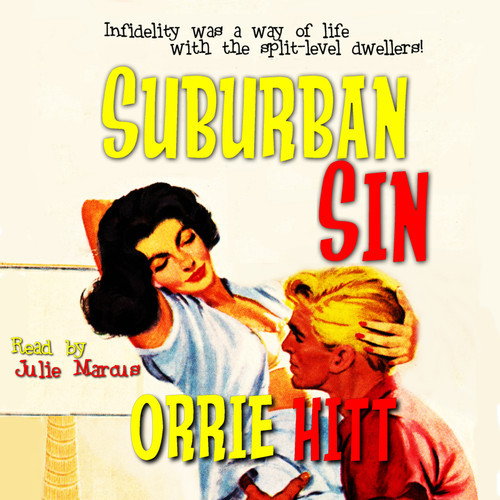 "Suburban Sin" by Orrie Hitt
It's 1959. The town of Clinton, just a short train ride from the Big Apple, is awash with sexuality. There's Olive, who feels the urge to merge with her married neighbor Sally, but fears her lesbian lust is an abomination. Olive's long-suffering husband, Jerry, seeks solace in the arms of his bombshell sister-in-law. And why did Sally's husband, Fred, disappear with Ruth Archer at the hottest party on Morris Drive every Saturday night? Pulp sleazemaster Orrie Hitt hits a bull's-eye with this shocking tale of tawdry affairs in mid-century America.
Buy "Suburban Sin" on Audiobook!
---
---
"Woman of Flowers: Heirs to the Byzantium by Susan Shwartz
Alexa, princess of Byzantium, was destined to rule with her devoted brother Marric until the evil forces cast dark magic upon her and made her betray him. Thus, Marric feels under assault, a usurper has seized the throne and, by means both magical and moral, defeated Alexa. Saved by warrior allies, Alexa has been taken to an unfamiliar northern land. Convinced of Marric's death, she is consumed by guilt and fear. Even from afar, the usurper's power reaches out to trap her.
Savage dreams agonize her nights, prophecies of doom upset her days, and the fiery magic runs wild within her soul. Alexa's only hope lies amidst the Druids of the distant Misty Isles. They alone can cleanse her of the darkness that infects her and teach her to use her powers well. But Alexa must learn more than just the secrets of the Druids, for within her hands and heart lie the very survival of Penilyn itself and the fate of Byzantium.
Get "The Woman of Flowers: Heirs to Byzantium Book 2" on audiobook here!
---
---
"Queensblade: Heirs to Byzantium Book 3" by Susan Shwartz
On distant Pennllyn, a barbaric fate awaits the Princess Gwenlliant. For here it is decreed that every queen must one day slay herself with the sacrificial dagger called Queensblade. This is the third volume in the Heirs to Byzantium.
Buy "Queensblade: Heirs to Byzantium, Book 3" on audiobook!