Audible Audiobook Time!
Just finished recording for audible.com – Book 2, "The Woman of Flowers,"  from Susan Schwartz's fantasy series "Heirs to Byzantium." Here's a sneak peak of the storyline:
A saga of sorcery, dark magic and a princess in exile takes the reader to a strange nothern land where savage dreams torment a woman's nights. Alexa's only hope lies with the Druids of the Misty Isles, who can teach her to use her magic to save Byzantium.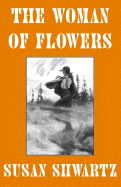 Next week, I begin recording Book 3, "Queensblade."